I think high school seniors have a different perspective on this whole Covid-19 thing. They get that they are not alone and that their senior year is messed up and that they are missing out on all kinds of traditional, rite of passage stuff. They get it, I promise they do. But that doesn't stop them from wanting things to be 'normal'. Whatever that means. I remember back in March when school was cancelled for 'a few weeks'. Anna went to school on that Friday and came home and said to me"what if I've just had my last day of high school?". I hugged her and said that was absurd, you'll be back after spring break. Yeah….
My Anna missed out on all the things that should have been closure for her senior year – her 12 years of work to get to this place. Days/Events on the calendar came and went. Prom. Senior Sunrise. Senior Sunset. Senior Skip Day. Spring Break. Award Ceremonies. Senior Breakfast. One last walk through the high school in their cap and gowns. A visit to their elementary school to walk the halls and give high fives to the students. Senior…everything, was gone. Yet the one day that I was dreading the most for my Anna was what was supposed to be graduation night. I mean, how do you just pretend that it's just another day? The graduation cap and gown and tassel had been hanging in the closet since February. Do we just ignore it?
So when a group of parents got together and spoke up and decided to put a 'Senior Parade' together, I was all in. The Seniors, however, at first balked at the idea. "I am NOT going to do this". "It's Weird". "I just want a normal graduation". And then, something pretty great happened. The town embraced these kids. Everyone showed up. Cars were decorated. Kids put on caps and gowns and got their pictures taken. They suddenly felt validated. And important. And not forgotten. And when they rode through town and the crowds were cheering and the people were clapping and sending big wishes and love to this very special senior class – you could see the happiness in all of their faces. In their smiles. In every single one of them.
This very special class went from feeling sad and angry and confused and forgotten, to being happy and excited and were having an absolute blast. The past few months disappeared. Things felt normal. This class of 2020 are now the coolest class and what the underclassmen want to be next year. What a great night. What a memorable event. What a good time to be alive and present.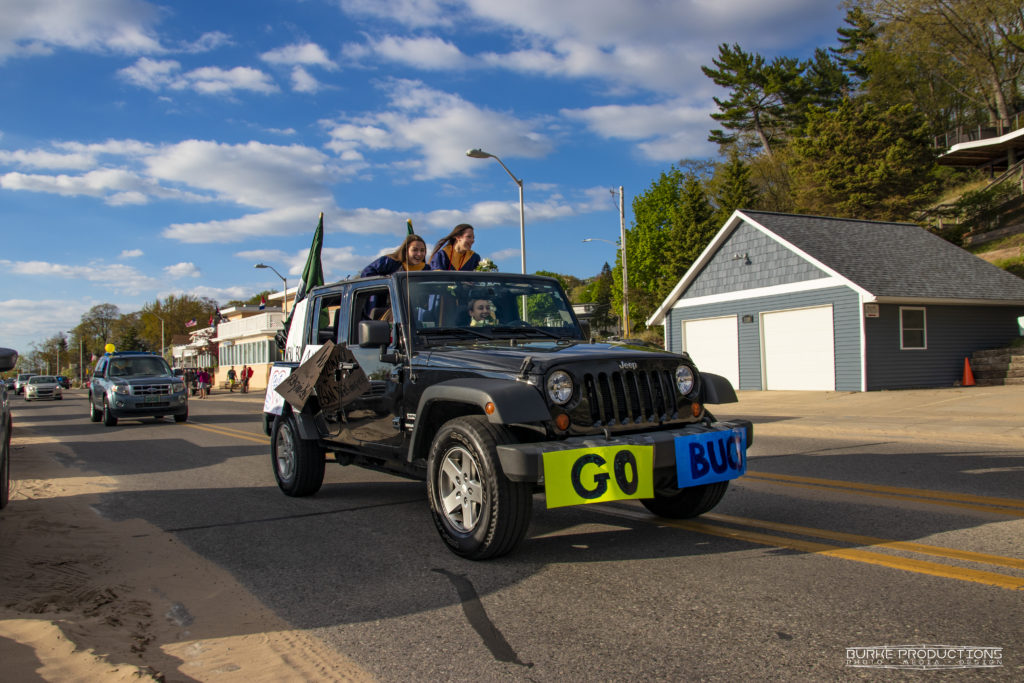 We will never forget the class of 2020. And as we go on, we remember, all the times we, had together. But most especially this last hoorah.
Go get 'em Class of 2020. You did it.
With love from Grand Haven,
Julie
And so we talked all night about the rest of our lives
Where we're gonna be when we turn twenty five
I keep thinking times will never change
Keep on thinking things will always be the same
But when we leave this year, we won't be coming back
No more hanging out 'cause we're on a different track
And if you got something that you need to say
You better say it right now 'cause you don't have another day
Cause we're moving on and we can't slow down
These memories are playing like a film without sound
And I keep thinking of that night in June
I didn't know much of love
But it came too soon
And there was me and you
And then we got real cool
Stay at home talking on the telephone with me
We'd get so excited, we'd get so scared
Laughing at ourselves thinking life's not fair
And this is how it feels
As we go on
We remember
All the times we
Had together
And as our lives change
Come whatever
We will still be
Friends forever
So if we get the big jobs
And we make the big money
When we look back now
Will our jokes still be funny?
Will we still remember everything we learned in school
Still be trying to break every single rule?
Will little brainy Bobby be the stockbroker man?
Can Heather find a job that won't interfere with her tan?
I keep thinking that it's not goodbye
Keep on thinking it's a time to fly

As we go on
We remember
All the times we
Had together
And as our lives change
Come whatever
We will still be
Friends forever
Will we think about tomorrow like we think about now?
Can we survive it out there?
Can we make it somehow?
I guess I thought that this would never end
And suddenly it's like we're women and men
Will the past be a shadow that will follow us 'round?
Will these memories fade when I leave this town
I keep thinking that it's not goodbye
Keep on thinking it's a time to fly
As we go on
We remember
All the times we
Had together
And as our lives change
Come whatever
We will still be
Friends forever