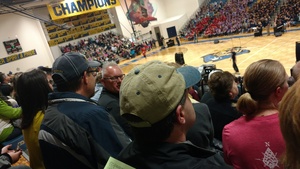 We have all been there.  Racing from one event to another.  Laughing at the chaos that is our life.  Making lists to keep it all straight.  Feeling stressed.  Hoping that we are doing, enough.  Tonight I was hurriedly driving Anna from her soccer game to her choir concert when she casually mentioned to me that she was upset because her world history teaching didn't have time to include 'good things' that day in class.  She went on to say that every day Mr. Duram asks the kids to raise their hand and tell the class about 'good things' that happened to them or that they saw that day.  It was her favorite part of the day.  And it made me pause and think, why don't adults do this?
So as I sit here tonight I started to think about all the good things that have happened in the last few days.  Not just the usual I'm healthy and alive and I have a job things, but real things that kind of fly under the radar but are nonetheless, good.  Here's my list:
I had lunch on Sunday with my son who turned 25 that day.  He loved that my gift to him was homemade goulash for his birthday. A great big pot of it. We had lunch at a small family diner that was grateful for our business. We sat and talked and laughed at the rain and the weather and his roommates and his upcoming travel and his job and his softball league and the fact that he ate a real, authentic burrito from a tiny Hispanic restaurant that week. I didn't want to leave.
I fell on my run on Sunday and got a big bruise on my leg.  What  isn't cooler than a big 'ol bruise that shows you went out and did  something?
The flowers in my garden have grown significantly over the last week and are going to be spectacular this year.
I went to my daughters soccer game on Monday and forgot to bring cash to get in and somehow had $5 worth of quarters and dimes and nickels in my car.
I put a lock, all my myself, on my backyard gate so my dog, Baby, couldn't get out.
I made homemade chocolate chip oatmeal cookies on Sunday and they were magnificent.
I found a really really really really great book to read.
I remembered every thing I was supposed to buy at the grocery store.  Without a list.
I painted my nails a different color the last 4 days.
And lastly, tonight at my daughters Choir concert, it seemed like the whole city of Grand Haven showed up.  I almost cried.  We often think of sporting events as the only thing that can draw crowds, yet here we were at a spring concert and  it was literally standing room only.  I've attached a picture of the crowd.
These are all good things.  Things that I should focus on instead of the heavy, not-so-good things.
Thank you my Anna, for reminding me to look at the good things. I should do that everyday.
With love from Grand Haven,
Julie