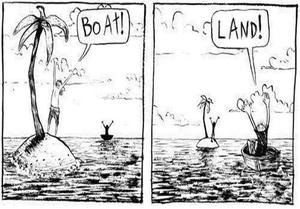 I have had this image on my inspiration board at my warehouse for a long time.   I look at it and see the irony in each image.  It's sad and funny both at the same time.  I can imagine myself being both of these people, the one on the island jumping for joy because I see a boat and the possibility of finally getting off the island.  I then imagine myself in the boat, being thrilled that at last I have found land and no longer have to be drifting in a boat.  Both images makes me think that I am being saved.  And it's all a matter of perspective. I like to look at it as a reminder.  I have a habit of getting so caught up in my life,  and what I feel is the best and what route I want to take and thinking there is only one way to look at something that  I forget that others may have a different perspective.  It's a good reminder that what I might think of as a great thing, or the next best thing, may be completely different from what others think.
There is another way of looking at this.  Instead of looking at it with perspective and how people view things, we can look at it with hope.  And excitement.  And relief.  We can imagine ourselves being both the islander and the man in the boat.  And instead of feeling pity for each man, or laughing at their misfortune, we can find solace in their hopefulness.  I can imagine each of their happiness at finding either land, or a boat.  And isn't that a direct parallel of life?  We can sit in despair and think our life is over, or we can rejoice in finding something that can renew our excitement in finding what we have been searching for.  It's all a matter of perspective.  I look at this and embrace their happiness.  And differences.  And perspectives.
As we move forward in 2017, let's try to see things from everyone's perspective.  Not just our own.  And let's not forget that there is always hope for a better tomorrow.  For without that, why would we even be happy to see a boat.  Or land.
With love from Grand Haven,
Julie