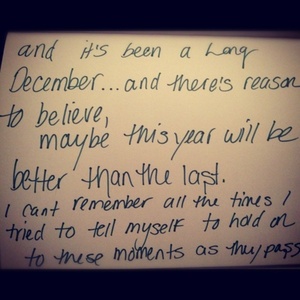 December was the longest and shortest month of my life.  Everything seemed out of the ordinary and I honestly believe I lost a full week somewhere…which made it the shortest month.  Yet there was some much going on, between a warehouse sale, large unexpected online orders, difficult paperwork, events at school, emotional events, shorter daylight hours and a general blurr of  days of the week….which made it the longest month.  School for my daughter went right up until December 23 and perhaps because of that it seems like we just never got into Christmas spirit.  We hung lights late outside, we didn't put ornaments on our tree ~ only lights, and although we typically watch every single Christmas movie out there we found ourselves watching hockey or basketball instead.  AND, there was no snow.  It was 70 degrees and green, in Michigan.  Just an off year. Everything seemed forced and not light hearted.  It was as if I was in a fog and just going through the motions.
I am disappointed in myself for getting so wrapped up in work that I didn't take time to get wrapped up in presents and the season.  I love Christmas.  I love the happiness that it brings.  I embrace the loss of an old year and bring on the new one.  That's what was missing this year.  I let my head rule, instead of my heart.  It was like my heart was out to space.  So I am making this the 'year of the heart'.  I need to get back to letting my heart rule which is what makes me who I am.
So come on 2017, let's make this year better than the last.  Starting today.
Julie