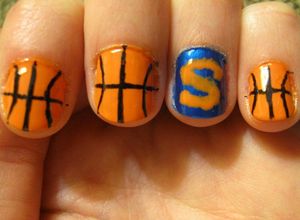 Every single year I fill out my bracket with huge expectations and optimism.  I paint my nails like basketballs.  I read the stats.  I pay attention to the analyst.  I watch as many MSU games as I can.  I secretly hope that Gonzaga gets in the mix because they have the best name, even though I have no idea where they are from.   I expect Kansas, Louisville, NC and Duke to go to the final 4 but rarely have that showing in my bracket.  I throw in some upsets but typically go with the higher ranked teams, thinking they will go farther than the rest.  I hope for MSU to make it to the Elite 8, the Final 4 and the Championship Game.  But that's not always the case.  It's fun and my daughter and I hang our brackets on our door for the whole neighborhood to see. We enter March Madness with hope and excitement and always a new love for basketball.
So far this year I only have 1 team left in the final 4.  And most of my pics were out by the Sweet 16.  And yet I hold on with huge optimism for the one team I have left.  Because they are still in it.  And there is still hope.  And I can't help but look at my bracket and see a direct parallel to life.  We start out picking what we think are the winners because they are ranked #1, so we automatically pick them.  When they lose it is a genuine surprise even though, lets face it, we know nothing about the team.  In life, we pick the popular kid or the tall kid or the one who has money because we think they are the best.  And we all know how that can turn out.  Slowly we start paying more attention to the little guy and the ones who won't give up and realize that it's not always the 'winners' that win.  It's not always the most popular teams that make it to the final 4.  Life has upsets – just like my bracket.  And if I'm really lucky, there will be one team (one person) left at the end.  That's all we can really hope for, yes?
So in this last stretch of March Madness, remember not only to root for the populars, but to remember the underdogs that have fought and scraped and have never given up.  They could very well be our next Champions.
With love from Grand Haven,
Julie