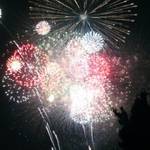 What can be better for the first week or so of July than Shark Week, fireworks and spending time with the family?  When you own a cottage, you never know for sure home many people will actually show up for the weekend.  My 22 year old son said "a few friends will come for sure"….which turned into 5. And they were so much fun and so good to my Anna that I couldn't have asked for a more eclectic, kind and fun group of guys. We had Anton from Bulgaria, Neeko from Germany, Shane from East Lansing, Luis from France, and my darling boys Josh and Jonathan.  Anna was in 13 year old heaven.  We fished, we sat around a campfire, we kayaked, we boarded, and we lit off the best display of home fireworks in Onekama. The kids spent way way too much on fireworks but so worth it.   So. Much. Fun.  Arriving home to Grand Haven on Saturday, July 4th, isn't the worst thing in the world to have happen to us :).  Fireworks at night were pretty much the most beautiful, patriotic event I have attended in a long time.
We live in a pretty small house in Grand Haven and when I awoke in the morning there were 11 overnighters in our house.  How fun. Sleeping bodies everywhere…on the floor, in between blown up mattresses in the spare room, on the couch, in a chair..you name it, there were sleeping there.  But isn't that what fun and holidays and family and friends and resort towns are all about?  How lucky am I to have all of this right here, right now.  My kiddo's, their friends, laughter, good times and memories.  I am truly blessed and a very fortunate momma.
Monday came quickly and I there was lots of work to do but….Shark Week!!  Whoa.  Pretty much consumed my evenings and my nails:
Anna Loves Shark Week!!  We watch the same stuff over and over and never tire of it.  We wear shark tee's and try to paint out nails like sharks.  We are totally Shark Week Geeks.
Okay, Baseball.  I love my Detroit Tigers. While growing up my mom was the most loyal Detroit Tigers fan, ever.  So although I never rally followed them, I followed them vicariously through my mom.